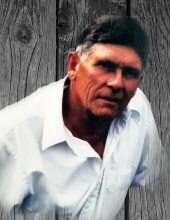 Obituary for George Prudham Scotton
On Monday, December 6, 2021 Mr. George Scotton passed away peacefully at the age of 81 years in the Maidstone Health Complex, Maidstone Saskatchewan.

George Prudham Scotton was born on February 13, 1940 at Rabbit Lake, Saskatchewan and was the sixth child of Joseph and Georgiena Scotton. George took his education at the Mayfair, Wanganai & Alticane Schools. One of George's fondest memories was playing in the coulee just north of the farm yard. George grew strong and wise on the Mayfair farm under the closeful eye of his mother where he inherited his love of nature, his compassion, spirituality and his ideals of real true love.

At the age of 17, he went to camp Borden, Ontario and took his Basic Military Training. In 1958, at the young age of 17 he flew to Al Arish, Egypt with the Royal Canadian Signal Squadron which was attached to the United Nations Emergency Police Force. This was the second contingent with the United Nations Peace Keeping. They landed on the Sinai Desert, Gazi strip. That Christmas he toured the Holy Lands- Jerusalem, saw the Sea of Galilee and Jericho. George took pictures of the tomb where Jesus was laid. The high light of his stint in Egypt was going through the Great Pyramid of Geza. In words of George, it changed his life forever. George spent one full year in Egypt before flying home and landing in Gander, Newfoundland.

After leaving the army George graduate from the Chicago Vocational Training School in Edmonton, receiving his Heavy-Duty Mechanic Certificate. He worked for CCIL in Stettler, Alberta from 1963-1964. In 1967 George went on to continue his education at the Kelsey Institute in Saskatoon and obtained his Journeyman Carpentry Certificate.

On April 1, 1967 George married the love of his life, Mary Rose Krake.

George leaves to celebrate his life his Wife of 54 years, Mary Rose Scotton; Children Jeffrey Scotton and Lisa Scotton Zweifel; Grandchildren Chase, Sarah and Walker Zweifel and their Dad Tal Zweifel; Siblings Helen Starnes, Richard Scotton, Buck (Ellyn) Scotton and Nan (Marcel) Stroo; Sister-in-law Doreen Griffith; Brothers-in-law Russell (Aldean) Krake, Gene (Goldie) Krake, Roy (Arlene) Krake, Ralph (Marion) Lange; as well as numerous nieces, nephews and extended family.

George was predeceased by his Daughter-in-law Bambi Scotton; Parents Joseph and Georgiena Scotton; Sisters Ruth and Brenda; Brothers William and Jack; Sister-in-law Delaine Scotton.

In keeping with George's wishes cremation has taken and a service will be held at a later date.

If so desired donations in memory of George may be made to the Village of Paradise Hill to continue filling the Wagons with flowers in the summer, and new Christmas decorations for the village.